Perhaps you have noticed that the agrochemical price has continued to be high, and the agrochemical market has continued its craziest increase in the past decade.

01
What drives the crazy price increase?
The first factors driving price increases are the shortage of containers caused by COVID-19, and the soaring transportation costs caused by port-operations slowdown.
On the other hand, in response to climate change and protect biodiversity, China has set a goal of carbon peak by 2030 and carbon neutrality by 2060 this year. In addition, "dual control of energy consumption" policy has been implemented in the second half, which has resulted in supplying reduction. So the market situation of raw materials and intermediates are "tightening prices". The shortage of raw materials has triggered a wider range of production suspensions in the agrochemical industry.
What's more, with the arrival of the heating season in the north, energy is further intensified.

02
What happened in the agrochemical market?
On October 31, 2021, contrasted with previous month, 76% of the hundreds of products tracked rose. With the increase in varieties, the price index of TC price continued to set new historical highs, regardless of the increase rate or the index.
The TC price index reported 211.80 points and sharp increase of 17.5% from the last month. The price index of herbicides, inseticides and fungicides all exceed 10%.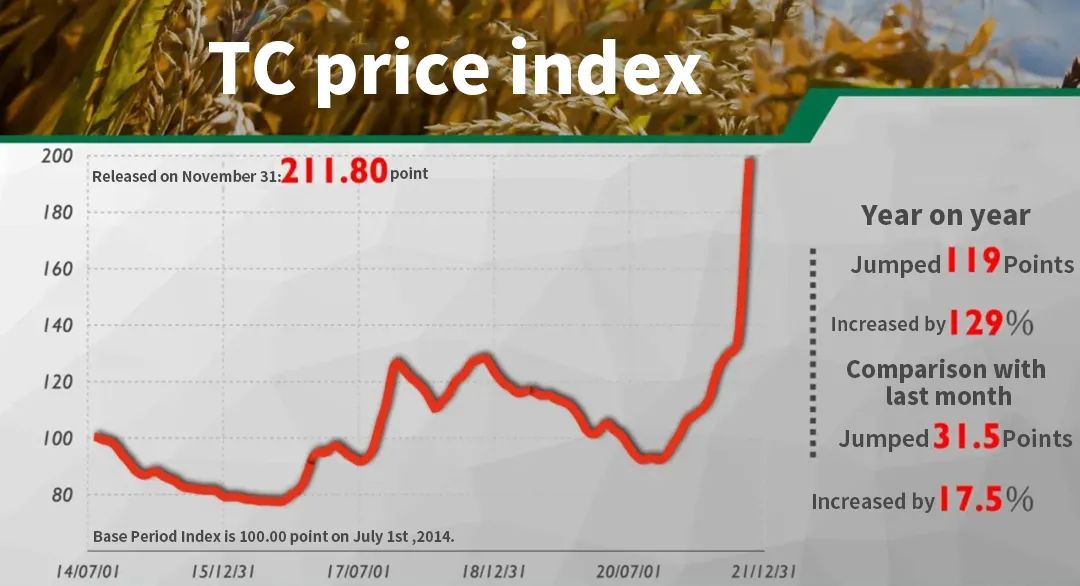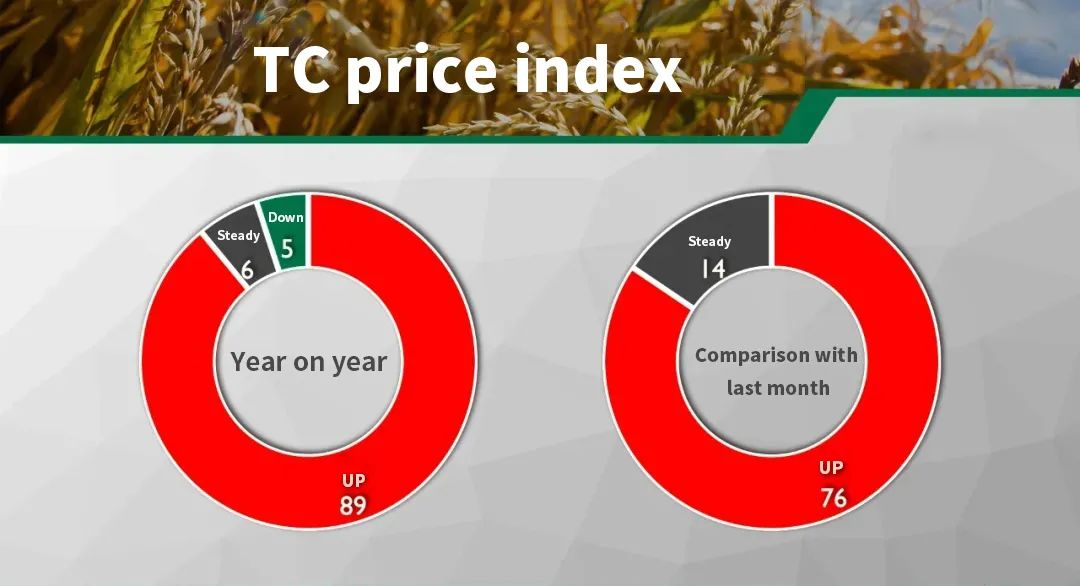 (Data source: Zhongnong Lihua -2021-10-31)
On October 31, 2021, herbicide TC price index reported 261.36 points, up 16.7% month-on-month and 183% year-on-year.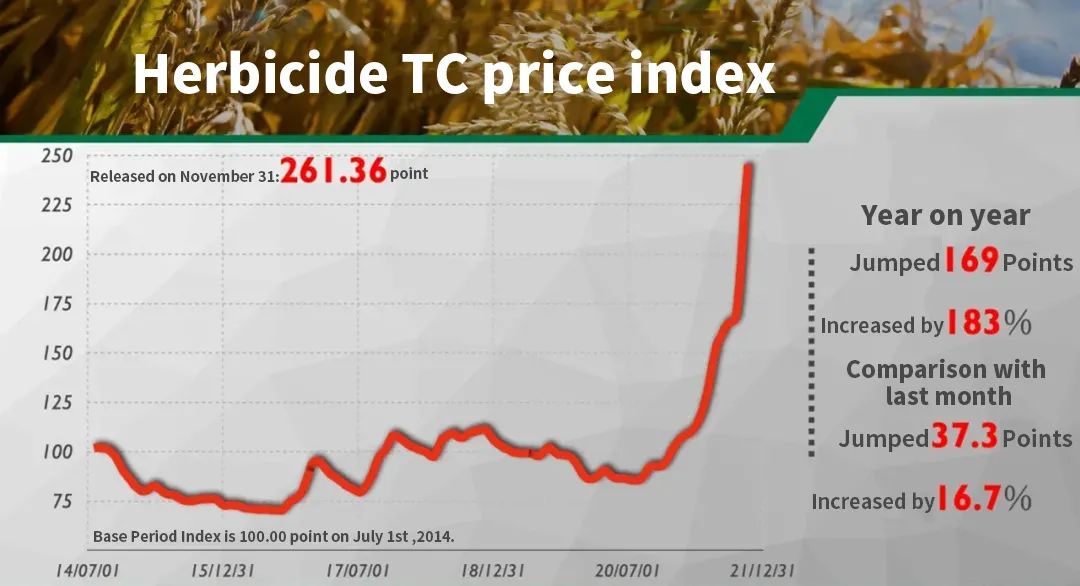 (Data source: Zhongnong Lihua -2021-10-31)
On October 31, 2021, insecticide TC price index reported 177.37 points, up 22.4% month-on-month and 90.9% year-on-year.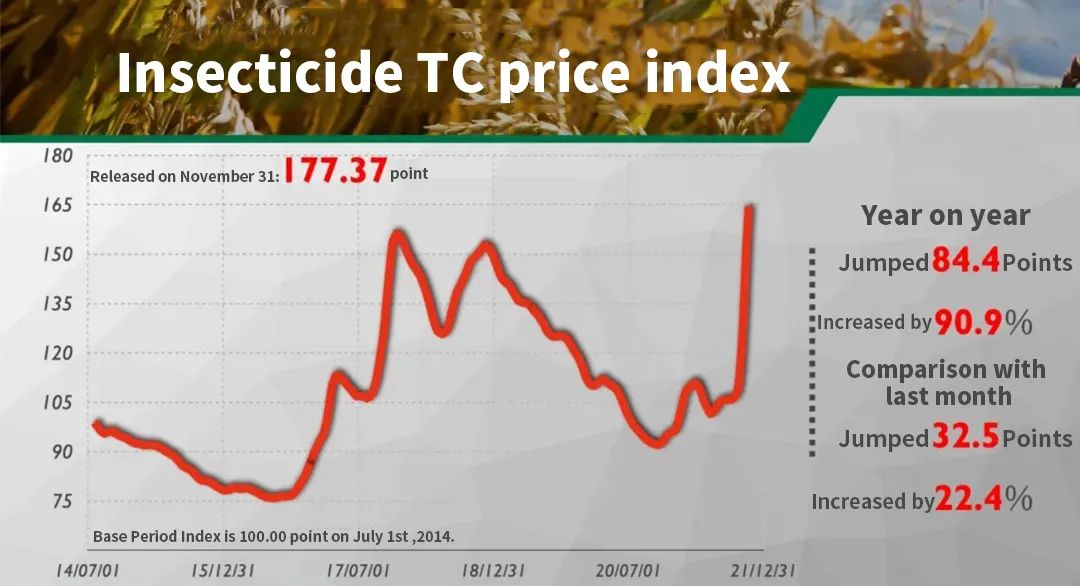 (Data source: Zhongnong Lihua -2021-10-31)
On October 31, 2021, fungicide TC price index reported 154.13 points, up 14.3 % month-on-month and 67.1 % year-on-year.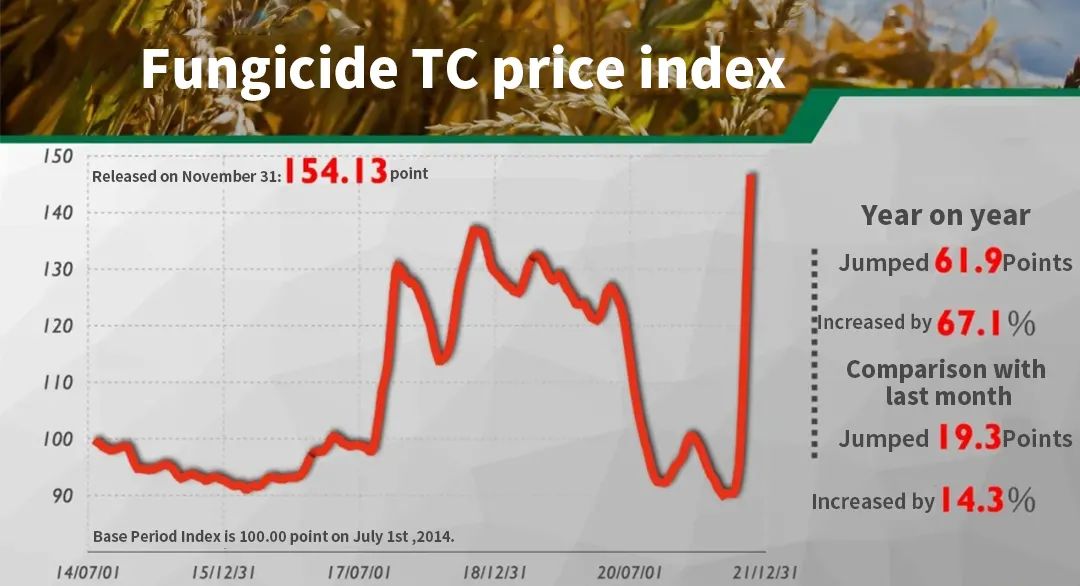 (Data source: Zhongnong Lihua -2021-10-31)

03
How to react currently dilemma?
Currently, the contradiction between supply and demand still dominates Chinese Market. Panic buying is spreading, which is triggered by fearing about out-of-stock.
As China is one of the world's leading agrochemical producers it is also spreading worldwide and resulting in tight global supply. A typical example is the supply & price of Glyphosate since over 95% of Glyphosate is produced in China.
The supply of Agrochemicals has become much difficult than ever which frequently leads to order defaults.
From the perspective trends, it's essential to plan procurement or marketing prudent as the main strategy, because price is undergoing major fluctuations. In addition, it is also suggested to bulk purchase after the stable agrochemical market.